My Gay Boss
Announcement
Montreal, May 11th, 2016 – Stunner Media has completed a major move for EuroBoyXXX, bringing the site to its ever growing affiliate program IndieBucks. The Montreal based company and its partner Jean Bourne Group became owners of the twink site through their recent acquisition of Prowler Distribution.

EuroBoyXXX specializes in young men from all over Europe, including many well known British performers. The site has a strong library of hardcore videos, which will continue to grow under its new owners. Indiebucks is one of Stunner's most successful affiliate programs and EuroBoyXXX adds to its already diverse portfolio of sites. Notable British sites like BlakeMason and Boynapped are part of the program, along with over twenty additional sites, ranging from porn star driven to fetish to American twinks.

The site was moved from its previous operator, JonnoCash. All affiliate traffic is redirecting to the new site on IndieBucks and affiliates can rest assured their old links will give them credit for all traffic on IndieBucks. A FAQ page was created to inform affiliates of the changes: http://indiebucks.com/external.php?page=EBX_FAQ For more information, please visit indiebucks.com

Here are some special banners: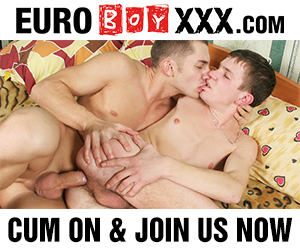 NEW Content for My Gay Boss!
We added the photosets and tube clips from the new online scenes. You can hotlink to the clips, or embed them on your blogs/pages! Go to the ad tools section on PhoeniXXX to get a dump of clips or the embed code for each clip.
Download all this week's tube clips with descriptions and thumbs to add to your tube:
Click Here to Download all tube clips updates.
Download all this week's photosets:
MY GAY BOSS UPDATES
Steve Weikman & Tate Ryder
Lucky Tate Gets It Good!

When you work as hard as Steve and Tate you have to treat yourself occasionally. The boys take a break from their duties and Steve gives his friend a bit of help with his aching shoulders, but you know Steve has more to offer. His massive cock is soon out and the guys share some great sucking before gorgeous Tate gets a great ramming up the butt and a cum fountain splashed over him!

Tags: Anal, Natural, Oral Sex, Tattoos, Masturbation, Kissing, Rimming, Deep Throat, Brown Hair, Fucking, Trimmed, Cut, Uncut, Large Dick, Short Hair, Jocks, Ass Play, Cum Getting Fucked, Cum Jerking Off, Riding, Huge Load, Other Location, European